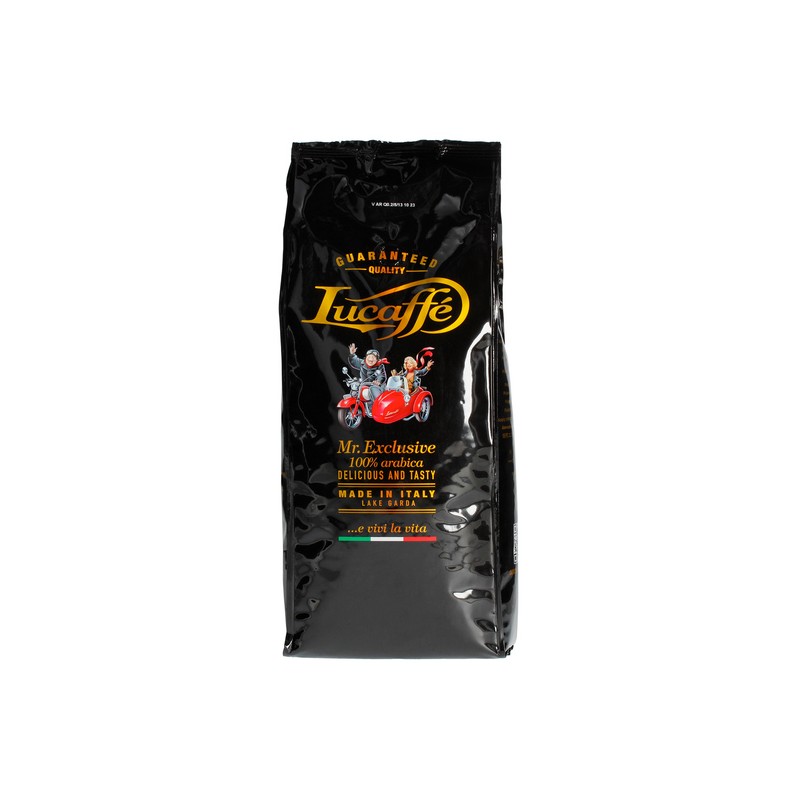  
Coffee beans Lucaffe Mr. Exclusive 1kg
A blend of selected 100% Arabica beans from South America, Asia and Central Africa.

Delivery policy
Arabica mixture with an intoxicating aroma
Mixture of  high-grade Arabica coffee from South America, Asia and a tiny percentage from central Africa. Probably no Arabica on its own can give the same results.
Medium body, sweet flavour, very pleasing aroma which sometimes can recall newly-baked bread. Pleasant lasting aroma, beautiful crema.
Lucaffè 100% Arabica Mr. Exclusive's roast is rather evenly dark without broken beans, which is quite indicative of high quality.

All Lucaffè brands are roasted the typical Italian way, i.e. slowly and gently in a rotating drum resulting in a harmonious blend of fine and spicy aromas.

This slow and gently roasting also makes it mild, smooth and gentle. What is also typical for all Lucaffè coffees is that they have a slightly sweet and chocolaty aroma with a hint of malt. Very rich coffee, perfect for Cappuccino and Latte Macchiato too
4 other products in the same category: