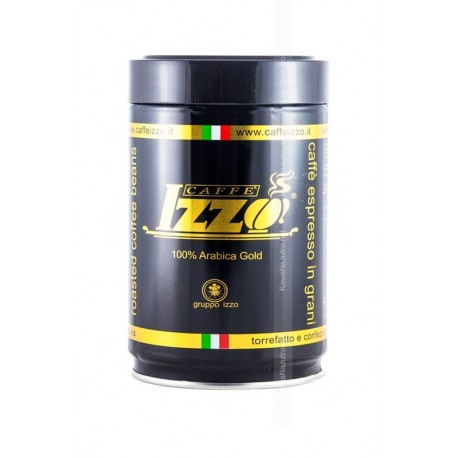  
Coffee beans Izzo Gold 250g

Delivery policy
Elegant - simply phenomenal.

Smooth, harmonious, chocolaty and delightful presence.

The richness and aroma of this Izzo Espresso 100% Arabica will impress you. In contrast to Izzo Espresso Neapolitano this coffee consists of 100% of the best highland Arabica coffees money can buy on the world market. Fragrance and aroma are bewitching, smooth, mellow and harmonious. It offers the whole range of what coffee pleasure means to you.
Izzo Espresso is roasted slowly at medium temperature for a bout 18 minutes. Due to this technique the negative acidity and bitter substances are reduced to a bare minimum, the typical coffee features such as richness and aroma on the other hand are brought out. What you have in your cup is absolute top-class coffee.
Characteristics:
 
3/5medium
 
4/5perfect crema
 
3/5medium caffeine content

Suitable for:
 
4/5very good for coffee machines
 
5/5perfect for espresso
 
5/5perfect for Cappuccino or Latte Macchiato
 
4/5very good for breakfast or Schuemli coffee
4 other products in the same category: