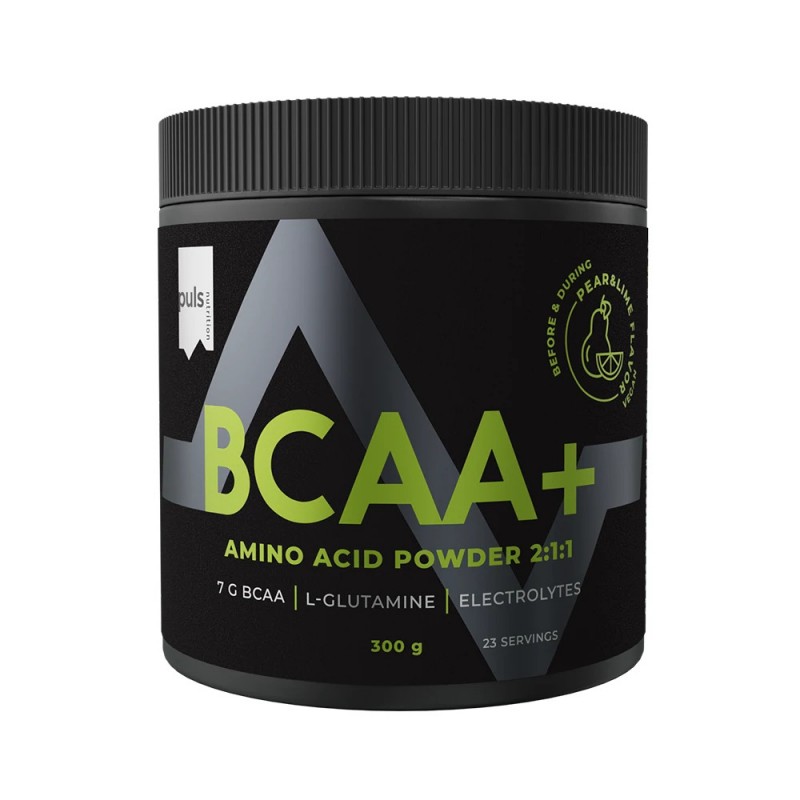  
PULS BCAA+ (300 g) pear and lime
BCAAs are branched chain amino acids that are essential for protein synthesis and post-workout recovery. Our bodies cannot produce these essential amino acids on their own, so they need to be provided by food or supplements, such as our BCAA+ with an optimal BCAA ratio of 2:1:1.

Delivery policy
7 g of essential BCAAs per serving in an optimal ratio of 2:1:1.
L-Glutamine for post-workout recovery
Electrolytes to replenish electrolytes lost during exercise through sweat.
Amazing taste
BCAA+. Dietary supplement. Kiwi and strawberry flavour BCAA 2:1:1 amino acid powder drink with electrolytes. Suitable for vegans. Contains sweeteners. Ingredients: L-leucine, L-isoleucine, L-valine 2:1:1, inulin (from chicory), L-glutamine, acidity regulator (citric acid), flavourings, sweeteners (sucralose, acesulfame K), emulsifier (soya lecithin), sodium chloride, potassium chloride, magnesium oxide, colour (caramel). May contain milk, soya, egg and nut residues.
Mix 13 g (1 dressing) with 500 ml of cold water. Take before, during or after exercise. Take once daily.

Important information: Do not exceed the recommended daily dose. The supplement should not be used as a substitute for a varied diet and a healthy lifestyle. Store in a cool, dry place away from direct sunlight. Keep out of the reach of children.
*NRV - % of nutrient reference values
Nutrition

100 g

13 g

Energy kJ (kcal)

1357 (323)

176 (42)

Fat

0 g

0 g

of which saturates

0 g

0 g

Carbohydrates

3,7 g

0,5 g

of which sugars

3,7 g

0,5 g

Fibre

31 g

4 g

Protein

62 g

8 g

Salt

1,9 g

0,3 g

L-leucine

27 g

3,5 g

L-Isoleucine

14 g

1,8 g

L-Valine

14 g

1,8 g

L-Glutamine

7,7 g

1 g

Magnesium

1153 mg (308%*)

150 mg (40%*)

Potassium

10

07 mg (46%*)

131 mg (6%*)

Sodium

754 mg

98 mg
4 other products in the same category: