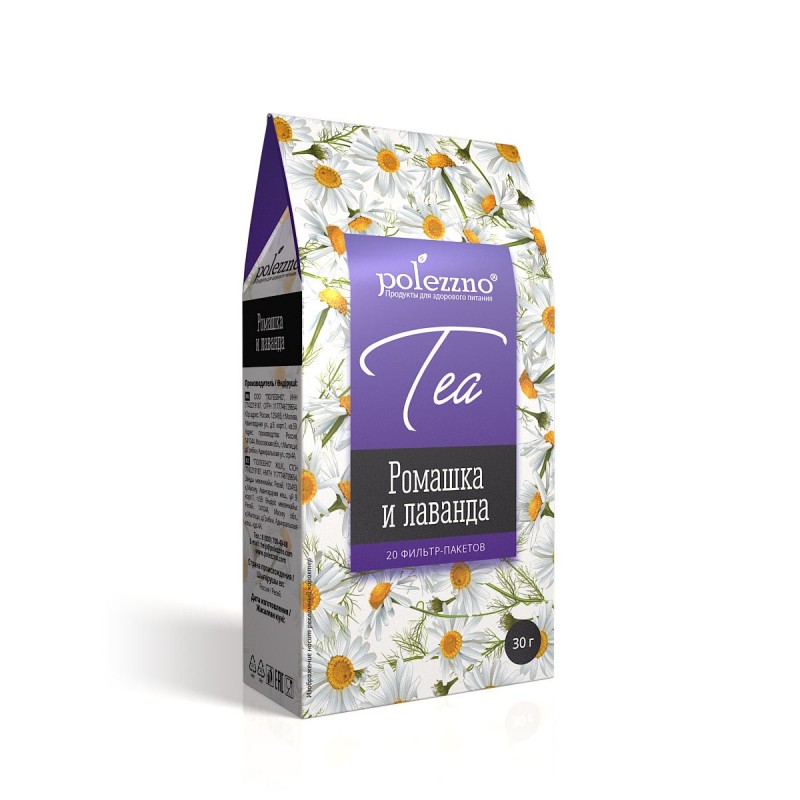  
Chamomile tea with lavender 20 tea bags x 1,5g Polezzno
POLEZZNO presents you a collection of chamomile teas, which contains 2 components, 2 notes. The first is chamomile, it is supplemented and acquires an unusual sound due to the second - exquisite lavender. Two flavors and aromas will allow you to enjoy a harmonious and bright bouquet without drowning out the taste of chamomile tea, but making it more interesting and memorable.

Delivery policy
Chamomile has long been known and widely used in herbal medicine due to its mild and comprehensive effect on the body. With its mild flavor and light summer aroma, chamomile tea has gained popularity among lovers of caffeine-free herbal drinks. Warm chamomile tea will soothe, relax and tune in a positive mood. The scent of lavender cannot be confused or forgotten. Now the scent of the lavender field can be inhaled directly from the cup. An exquisite combination of lavender and chamomile will give you not only pleasure, but also pacification. Chamomile and lavender are ideal companions for sound, restful sleep. This drink will help you relax and rejuvenate after a busy day.
Method of preparation: 1-2 filter bags per glass of water, brew for 3-5 minutes. Contraindications: Individual intolerance to the components.
Ingredients: Chamomile flowers, dried lavender
Nutritional value: proteins 0.8 g, fats 0.14 g, carbohydrates 0.2 g; energy value - 22.61 kJ / 5.4 kcal
4 other products in the same category: