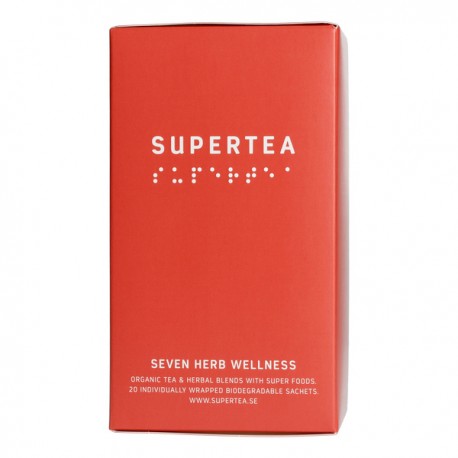  
Teministeriet Supertea Seven Herb Wellness Organic 20 Tea Bags
Supertea is a collection of organic blends of teas and herbs by Swedish Teministeriet. Each pack contains 20 individually wrapped sachets - biodegradable and environment-friendly. Loaded with natural ingredients, exquisite flavour and wonderful aroma.

Delivery policy
Seven Herb Wellness  is a blend of organic herbs - peppermint, blackberry leaves, chamomile, lemon balm, coriander, lemon peel and anise. This spice bomb will warm you up, calm your nerves and help to unwind!
Brewing method:
Temperature: 100 degrees Celsius
Time: 5 - 10 minutes

Delicious as a cold brew as well!


Ingredients:
peppermint*, blackberry leaves*, chamomile*, lemon balm*, coriander*, orange peel*, anise*.
*Organic.

Its colourful package makes it a great gift idea for every tea-lover!
Teministeriet is a specialty tea company from Malmo, Sweden. With roots from the island of Formosa, Teministeriet combines age-old tea traditions of the Far East with Scandinavian minimalism, design and flair.
Of the company ethos, cofounder Kathryn Brown's says, "My dream was to take everything I've learned about tea while growing up in Taiwan and recreating it with the flavors and design esthetics of Scandinavia where I now live and love."
From Chinese Bai-Mu-Dan white tea with familiar fragrances of elderflower and champagne to a green Sencha with wild berries of the north, each tea is a reflection of its multicultural inspiration.
4 other products in the same category: